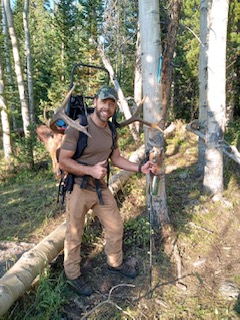 Gore Range Outfitters Inc. hunting trips, in Summit County GMU's areas 37 & 371, offer private and public access to some incredible deer and elk hunting, a half million acres of the rugged, remote, White River National Forest is included in our permitted area. We operate out of GMU's 37 & 371 under a special use permit with the USFS Dillon Ranger District in the White River National Forest. We hunt for deer, elk, moose, mountain goat, and bighorn sheep in these remote wilderness areas.
Our expert guides have over 15 years of experience each hunting in this area, and will provide you with unmatched, personalized service, and first-class accommodations, in prime wilderness area, for your Colorado big game hunt. Your guides will bring you in on horseback to select camp locations for optimum success for our fully-guided hunts. We also offer day trips, pack services, and drop camp rentals, so be sure to contact us about any of these services.
We offer five-day all inclusive trips that are fully guided and offer high-end accommodations. Gourmet meals with a cook at the camp, deluxe camps, include quality sleeping quarters, a kitchen tent, and toilet facilities. Also, transportation to and from the hunting camps via horse for you and your gear.
Guided One Day Hunting Trips GMU 37 & 371
Eagles Nest and Ptarmigan Wilderness Hunts
$550 1 person / per day ( 1 on 1 ) guide service 3-4 Day hunt
$500 1 Person / per day ( 1 on 1 ) guide service 5 Day hunt
$750 2 people / per day ( 2 people max per guide ) guide service 3-4 Day hunt
$700 2 people / per day ( 2 people max per guide ) guide service 5 Day hunt
$300 to $750 per animal success fee / pack out if successful deer/elk
Add $50 per day per person ( multi species hunt )
Fully-Guided Overnight Hunting Trips GMU 37 & 371
These are our all-inclusive trips. We take you and your equipment via horseback, from one of our private ranches, to one of our 4 camps, in either GMU 37 or 371. Each camp is identical, typically we have 3 tents at each camp, two sleeping tents, and 1 kitchen tent, each tent has a wood stove for cooking or heating to keep you nice and warm in the cold seasons. At each camp there is a cook. And if successful, the use of horses to help pack out the animal. These camps are difficult to get to without the use of the horses. The remoteness of these camps, in prime elk and deer habitat areas, has been the key to our success year after year.
7 Day fully-guided hunting trip, 5 days hunting, 1 day pack-in and one day pack-out Elk/Deer
$5,000.00 1 guest with a guide
$4,750.00 Per Person, 2 guests
$4,500.00 Per Person, 3 guests
$4,250.00 Per Person, 4 guests
4 guests maximum per camp
Add $200 per person for multi-species hunt