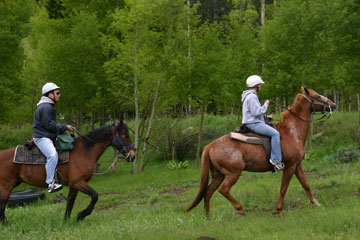 We provide the best horseback riding trips in Summit County. No more than 10 riders per group in wilderness and 10 riders on our ranch! You'll enjoy a true western experience on horseback. You'll be guided through valleys of wildflowers, streams, and forests of Aspens and evergreens. This is the premiere horseback experience in the County. Don't settle for a "pony ride" when you can truly experience horse riding at its best!
1 Hour ride meets at 1:30pm
Half Day Picnic rides meet 8:30am
Our transportation departs from The Red Buffalo Coffee Shop, 358 Blue River Parkway, Silverthorne, Colorado in the Silverthorne Pavilion. To see a map to our meeting location click here.
---
One Hour Horseback Tour - $89 Per Person
LEVEL: Beginner/Intermediate
AVAILABLE: June 25th - August 25th
MEETING TIME: 1:30pm
Private Ranch Semi-Private-Private horse ride
Meeting time at Red Buffalo Coffee Shop in Silverthorne 1:30 pm
1.0 hour of riding time (10 minuets instruction before trip) 1.5 Hours total
Ages 8 and up
We provide rain jackets and helmets
Limit 10 riders per trip.
We provide transportation from Red Buffalo Coffee Shop to our ranch and back
The $89 Price does not include a 7.25% USFS use fee and taxes
---
Half-Day Horseback Tour with Picnic - $150 Per Person
LEVEL: Intermediate
AVAILABLE: June 25th - August 25th
MEETING TIME: 8:30am
Meet time 8:30 am Red Buffalo Coffee Shop in Silverthorne
Approximately 2.5 hours of riding time depending on size and ability of the group
3.5 hours total time with lunch and instruction
Ages 10 and up with previous riding experience
We provide rain jackets and helmets
We provide picnic lunch
We provide transportation from Red Buffalo Coffee Shop to our ranch and back
The $149 price does not include a 7.25% USFS use fee and taxes
---
Private One-Hour Horseback Ride
LEVEL: Beginner/Intermediate
AVAILABLE: June 25th - August 25th
MEETING TIMES: 1:30pm and 3:30 PM
Duration 1 Hour
Price per person
Must Book In Advance!
Meeting at Red Buffalo Coffee Shop in Silverthorne
Ages 8 and up
We provide rain jackets and helmets
Limit 8 riders per trip.
We provide transportation from Red Buffalo Coffee Shop to our ranch and back
---
Summer Packing Services for Gear
Over the years many climbers, hunters, and fishermen have asked us to pack their gear into the wilderness via horse to specific locations into the Gore Range and Williams Fork Mountains, so now we are offering this as an exciting new adventure! You give us all of your gear, food, tent, etc. and we'll drop it off in a location of your choice in the Eagles Nest or Ptarmigan Wilderness areas. As long as your request is within our permitted area, we'll make this trip happen for you. Please call and we can tell you if we can provide a trip like this for you, to your favorite spot , with all the gear you need to spend some serious time in the woods. Call For More Information: 970-406-1485